12th May
The Deadly Tealights
The death of yoga teacher, Tim Leng, was brought to our attention by his flatmate, Scott Bevan. Leng had been found lying, dead, in a bath but he hadn't drowned. He'd been asphyxiated. In a locked room. And we know how much Sherlock likes locked room mysteries.
Bevan had already called the police but, as a reader of my blog, he believed that Sherlock would be more likely to solve the mystery behind his friend's death.
It took Sherlock precisely 36 seconds to work it out. Here are the facts if you think you can beat that. (Scroll down for the answer, as it were!) I didn't time him by the way, that would be weird. No, he told me. Afterwards. He did like showing off.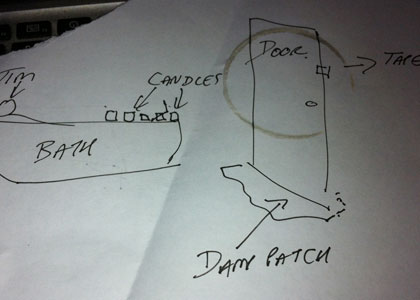 Apparently, the deceased had liked candles. And long baths. I'm not judging. There's a possibility I might enjoy a long bath myself occasionally. When Sherlock was alive I did a lot of running and fighting and sometimes I needed to relax and recuperate. And a bath is good for that. That's a medical fact. So it makes sense. And essential oils and candles help with the whole relaxing thing. People might laugh. People did laugh when Sherlock told them I enjoyed having baths but I was fine with it. I'm still fine with it. Baths are good.
So basically, Sherlock walked through the front door, into the hallway and pointed out a damp patch just underneath the bathroom door. He then went out onto the balcony where he found a few towels hanging on a dryer. He walked back into the flat, went up to Bevan and said, and I quote: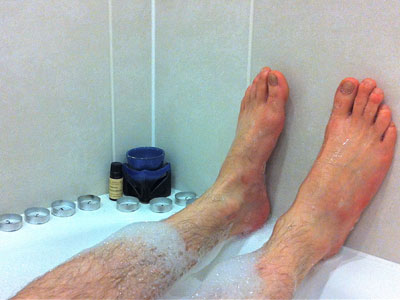 The answer...
"Your flatmate likes long baths. As does mine. So he goes and has a bath and lights all his candles. It's a small bathroom with no ventilation. Wet towels are taped around the door frame from the outside - there's a tiny bit of tape still here. The flames from the candles use up all the air and he slowly suffocates. Just like falling asleep. The wet towels are removed and the murderer contacts my assistant because he thinks he's cleverer than me and wants to show off a bit. Which I can understand. I like showing off. Who doesn't?"
So the flatmate had done it. And Sherlock worked it out in 36 seconds. Bevan had thought he could outwit Sherlock. But nobody ever really outwitted Sherlock.
Not until the end.